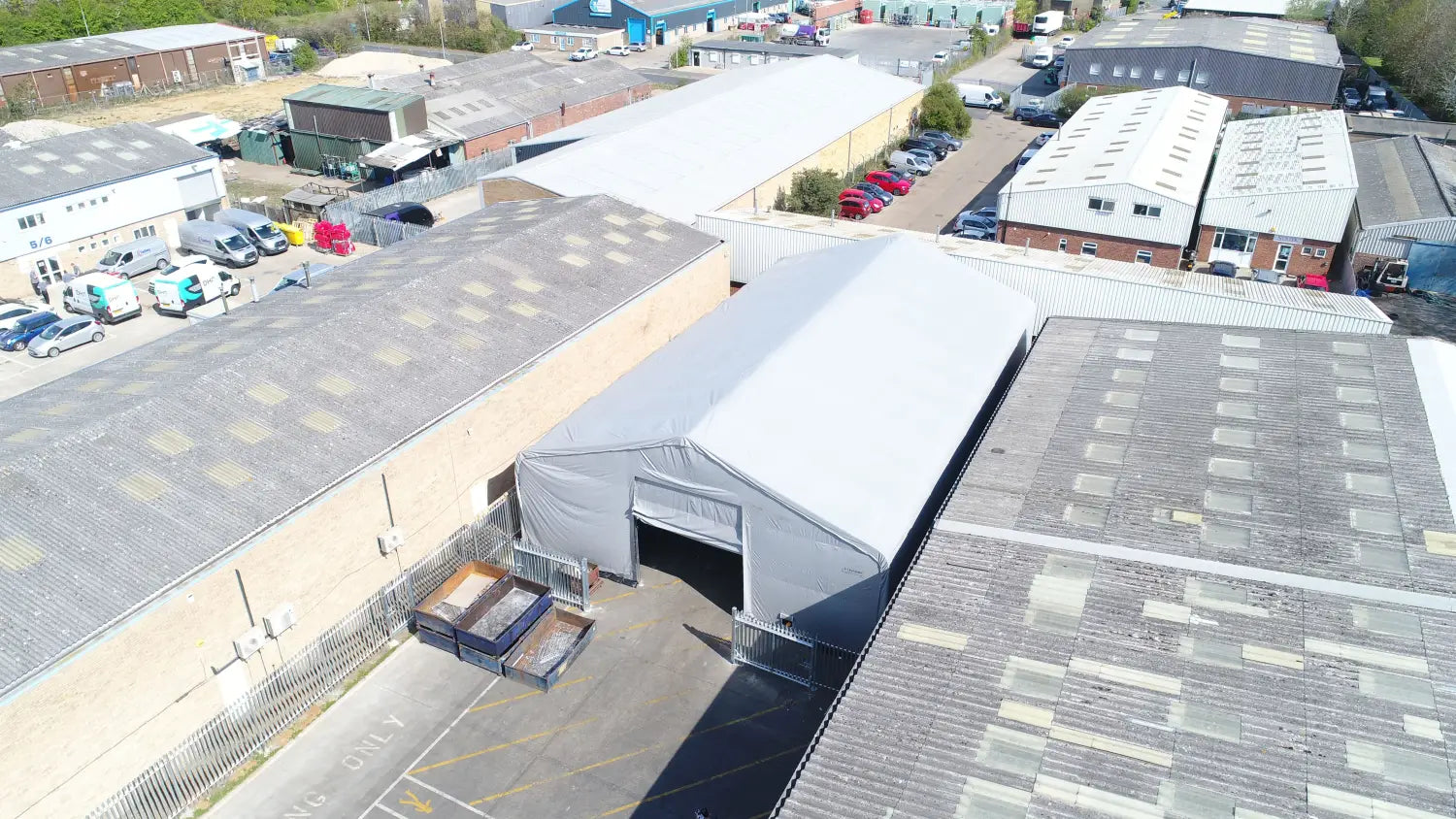 We offer a range of PVC buildings
Aircraft Hangers
If you own an aircraft, for either commercial or private use, regardless of the type or size, you will want to have a secure and safe place to store it when you are not using it. At Kit Buildings, our aircraft hangar storage building is the perfect solution.
Our robust and versatile aircraft hangars are made from high quality and reliable materials including a double truss galvanised steel frame structure. Over the solid framework, we use a 610g/m2 PVC that offers both fire resistance and UV resistance. Both of which are important properties to look out for when sourcing a structure to house an expensive asset such as a helicopter or plane.
Container Shelters/Canopies
If you are looking to store large vehicles, products, materials, or anything so that they are safe from damage, theft and are kept clean, and have shipping containers that you are not using or want to repurpose. you may want to consider our container canopy shelter.
Built using 610g/m2 PVC fabric on a single truss steel frame, these shelters benefit from fire retardant properties and offers protection for your staff and the items and vehicles you have stored from the harmful effects of the sun's UV rays. There is no limit really to what they can be used for.
Available In A Variety of Sizes
As we have worked with a variety of different customers over the years, we have tried to make sure that our products will accommodate different organisations and individual's needs.
Lorry Storage/Shelters
Whether you have access to or own a single coach or lorry or a whole fleet of these similar kinds of large vehicles, you will want to have a suitable storage solution in place to protect your investment. At Kit Buildings, we can provide one or more of our highly robust and durable lorry/coach storage shelters.
Built upon a tough and reliable single-truss galvanised steel frame and covered in 610g/m2 PVC cladding, these will protect your large transportation vehicles from fire and the elements when they are not in use.
Available in Different Sizes (Customised Sizes Also an Option)
Obviously, the size of storage shelter you require will depend on the size and number of vehicles you need to protect. That is why we produce lorry and coach storage shelters in 5 generous standard sizes. You can choose from either 33 x 18 x 20ft, 43 x 18 x 20ft, 50 x 18 x 20ft, 60 x 18 x 20ft and 65 x 18 x 20ft. However, don't worry if these sizes don't match your requirements, as you can order customised coach and lorry shelters, upon request when you order.
PVC Steel Storage Double Truss or Single Truss
If you are looking for a heavy-duty and secure storage solution for your business, then look no further than the PVC steel storage building we have here at Kit Buildings. Whether you need it for warehousing and to house people and materials or even large machinery and equipment, it has been designed to hold up against even the most intensive working conditions and natural elements.
Built on a sturdy double-truss galvanised steel frame, 610g/m2 PVC provides the protective shelter. This material is fire retardant and UV resistant, ensuring that you, your products, materials, machinery, and anything else contained within is safe from harm.
Available in Different Sizes
To help meet the specific needs of a wide range of different customers, we have 11 different standard sizes to choose from when you order these PVC steel storage buildings. However, our time spent in the kit buildings sector has taught us that even with such an extensive range of sizes to choose from, there will still be customers who need alternative dimensions for their own structures.
Round PVC Storage Buildings
These PVC buildings offer the versatility and adaptability that every industry needs. Many of our structures find use with multiple owners in different locations and for different applications than the structure was originally supplied for. The flexibility to relocate, resell or extend are appealing features for all tension fabric structures.
These industrial grade fabric buildings are being used to augment production capacity, maximising return on investment and lowering the risk associated with managing expansion in a growing business environment. We have the capability to adapt and customise structures to fit your warehousing and storage needs, even in uneven environments where options may seem limited.
Vehicle Canopies
If you own vehicles, like cars or vans, for either commercial or personal use, you will want to protect them from the elements. For a portable but robust and reliable solution that still provides you with easy access, look no further than the carport vehicle canopy portable garage we manufacture and supply here at Kit Buildings.
With a box section steel cladding covering that is built onto a tough and long-lasting galvanised steel frame, our carport vehicle canopy portable garage is designed to provide your cars and vans with the protection you need.