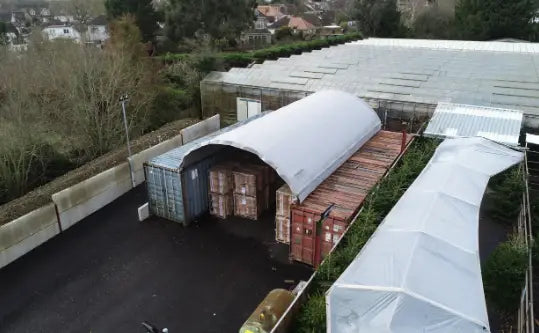 8 Inspiring Container Shelter Design Ideas.
Shipping container shelters and homes are a great idea for those who prefer a combination of creativity and practicality in their living spaces. It is one of the most eco-conscious living choices that elevates the ordinary to extraordinary. Container shelters become the perfect blend of modern aesthetics with sustainable living. 
Shipping container shelters in the UK have speedily escalated from being an architectural experiment to a considerable architectural alternative on a global level. The vessel once used for transporting cargo through the sea, can now be used to build stable and secure residences for individuals and families. They have taken the definition of reuse and recycling to a new level. 
In this blog, we will discuss ten In this blog, amazing designs and styles through which used shipping containers can be made into efficient and comfortable homes. So, keep along and discover some of the most innovative and exquisite architectural ideas.
Mini Housing option 
We all want to have little space to escape from our monotonous life cycle. In doing so, an affordable container shelter in the UK has emerged as the best option. The tiny space offers a personal hideaway for many people, as well as it can be transformed into a guest house when unwanted guests arrive at your place. It is an eco-friendly approach to building a house which demands fewer materials for its construction. Additionally, they're cost-effective and versatile in nature. 
Whether it's your private retreat or a charming guest space, these homes offer a simple and sustainable living option. They save you money while being kind to the planet.
Single Container Homes
Many container homes use multiple containers, but it's not essential. One can even make a comfortable home by using one container. To do this, one can use the techniques adopted when building a tiny house. Add plenty of windows, create an outdoor area, and even a rooftop patio. With the availability of limited space, plan your home layout carefully. In a single container home, the width is a maximum of eight feet, which may limit room placement. It is always advisable to check for local building codes, as they have minimum size requirements.
Designing Luxurious room
Container shelters in the UK suit various budgets. You can choose a small or large one, depending on your wallet. To enhance its look, a few coats of marine paint work wonders. Picking the right colours can make a beautiful container home. In order to provide a luxurious look, one does not have to work very hard. The containers are versatile in nature & act as a canvas for the one who aspires to show their creativity and passion towards giving it a posh look. 
Sloped Room Container
A sloped roof adds charm and has two useful roles. It stops water and debris from collecting on the flat roof of your container. It also lets you position your home and roof for solar panels or skylights.
For a single container or tiny house, use supports to create an elevated sloped roof above your box. If you're making a bigger home, think about using three containers. Put two containers side by side with space in between. Then, place the third container on top of one of the two. Add a sloped roof to link the second-story container's top with the single container's top. This gives you a flat surface for many skylights and a spacious living area under the roof.
Always Ready For Guest
 Having a separate space for your guests is always an amazing option. It prevents them from invading your couch or using your personal washroom. We often fall into the expensive trap of fabric building an entire guest house to overcome this situation. The best solution to this problem is a single shipping container. 
You can create a bedroom, bathroom, closet, and mini kitchen with one old shipping container. Your guests get room to have their own space. Adding a big outdoor patio or deck allows one to join them outside for coffee or cocktails. To make it feel bigger, add large glass doors. Guests can open up the container and bring the inside or outside in.
Space For Multi-Family
If you plan to build a home for more than your immediate family, be ready to use several containers. At the very least, you can build a three-bedroom home using three containers. But remember, that'd be around 500 square feet. For a 1,000-square-foot home, you'll need about six containers.
Container shelters in the UK are no longer just for the rich or eco-friendly folks. Many builders are now making multi-family homes out of shipping containers. They create container cities using multiple containers to form apartment-style buildings or separate cottages. Each person gets their home, typically made from one or two containers.
Container Treehouse
To accommodate the pleasure of adventure and luxury at the same time, a hanging treehouse is the best option. This is the best alternative to the convention housing option for those who care about nature and leave no carbon footprint behind. 
Treehouses are also the best for children and teenagers to make them understand the sustainable approach towards nature. The hanging homes are a fantastic container home idea. It's supported by strong metal pillars. To enhance the elegance of the space, its balcony stretches out to the tree branches, making it ideal for nature enthusiasts.
Beach House
Enhance your beach experience with shipping container shelters in the UK as your summer getaway. These cosy homes are affordable and provide a fantastic investment for quality family time. You can choose a single-level setup or add more floors as needed. Ensure your container house has a splendid terrace with stunning beach views.
Conclusion 
We have discussed the best 08 container shelters in the UK that are well-driven by the force to offer luxury, comfort, and a greener environment. Additionally, Container canopies are designed to provide better protection for the goods and other belongings. 
In the past couple of years, with the aid of technology, container homes have emerged as a better alternative for many people. It is a prime choice for several reasons:
Container shelters for sales

are built in a shorter span.

It is an affordable solution for many people.

These houses are built with minimal investment.

Container houses are transportable housing options.

It gives a better scope for creativity and designs.